News
Ein Koffer Samt & Seide,
so der Titel der neuen (Wechsel-)Ausstellung, die vom 19.06. bis 02.10.2016 im Museum an der Luisenstraße 15 gezeigt wird. Erzählt wird die Geschichte  der Paramentenweberei Hubert Gotzes, die Anfang des 19. Jahrhunderts eine Zweigniederlassung in Chicago eröffnete. Wie die Krefelder Weberei mit dem einstigen Ableger in den USA verflochten war; was daraus wurde und welche neuen Erkenntnisse ein Koffer aus Chicago für das heutige Museum hat, dazu werden spannende Geschichten erzählt und einmalige Exponate in Form von Stoffen und Dokumenten gezeigt.
Mehr darüber in unserer  Rubrik "Ausstellung".
Uraufführung des HdS-Films
Stadtspaziergang auf seidenen Faden
Zuspruch des Publikums forderte zwei Premieren ein

Zum Abschluss der erfolgreichen Ausstellung "Vom Krähenfeld zur Seidenwelt" brachte das Haus der Seidenkultur (HdS) den Film "Stadtspaziergang auf seidenen Pfaden" zur Uraufführung. Und zwar im Rahmen der Finissage, die am letzten Januarsonntag im Museum an der Luisenstraße stattfand.

Der  Film – im Herbst 2015 in HD-Qualität gedreht -  erzählt u.a. die Geschichte der Krefelder Mennoniten und ihrer Bedeutung für die Samt- und Seidenstadt. So erklärt Pfarrer Christoph Wiebe, welche Rolle der König von England in der Krefelder Stadtgeschichte spielte.

Ferner kamen Akteure zu Wort, wie Klaus Drenk, im Film Meister Ponzelar; und Stadtführer und Drehbuchautor Dieter Brenner, der durch das Programm der Finissage führte: "Ohne die Mitwirkung des Foto-Film-Clubs Bayer Uerdingen hätten wir die Produktion nicht verwirklichen können", sagte Brenner, der sich für "die fachliche Begleitung und Bereitstellung der Aufnahme-Technik", bei den Mitgliedern des Uerdinger Vereins bedankte.
Für den musikalischen Part der Finissage sorgte die Sängerin Julia Kapps, die sich mit dem Song "Mein Krefeld" nicht nur in der Seidenstadt einen Namen gemacht hat.  Produzent Wolfgang Jachtmann erzählte, wie der Krefeld-Hit entstand: "Eigentlich wollte Julia für ihren Vater in meinem Studio ein Geburtstagslied auf CD singen", erinnert sich Jachtmann, der auf Anhieb von der Sängerin begeistert war und für sie das bereits getextete Lied "Mein Krefeld" aus der Schublade holte.
"Total begeistert" vom HdS-Film war die neue Chefin der VHS-Krefeld, Dr. Inge Röhnelt: "Ich freue mich, dass wir künftig mit dem HdS noch enger zusammenarbeiten", meinte Röhnelt, die auf das Projekt "Rollenspiel" aufmerksam machte, wo Krefelder historische Figuren verkörpern. Was die VHS mit dem HdS vereint: "Beide Organisationen halten die Fahne für die Samt- und Seidenstadt hoch", brachte es Brenner auf den Punkt.
Das Besucherinteresse an der Veranstaltung war so groß, dass die Premiere am Nachmittag noch einmal wiederholt wurde. Erneut hieß es dann: Film ab; der übrigens vermutlich erst ab Mitte des Jahres käuflich zu erwerben ist. "Bis dahin laufen Verhandlungen der medialen Verwertung", sagt der HdS-Pressesprecher, der Fernsehausstrahlungen des Beitrags nicht ausschließt.
Das Krefelder Stadtfernsehen, KR-TV hat einen Beitrag über die Vernissage gedreht, der im Internet unter folgender Adresse zu sehen ist:
Radio KuFa berichtete über die Frequenzen von "Welle Niederrhein" über unseren Film.
Wenn Sie den Beitrag hören möchten, bitte den folgenden Link anklicken:
https://www.kulturfabrik-krefeld.de/radio/kanal/3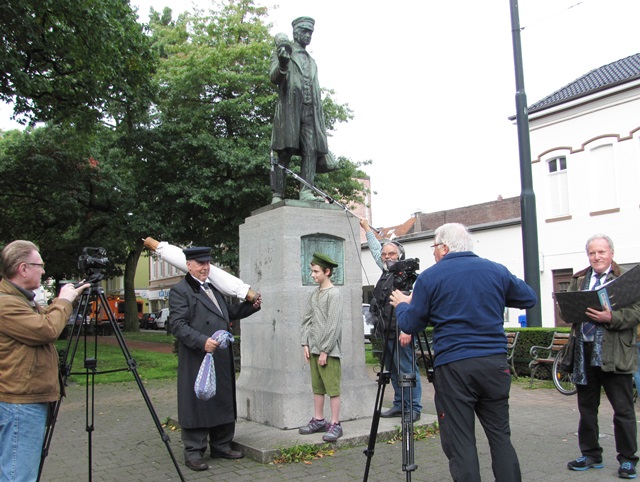 Szene von den Dreharbeiten: In der Mitte Meister Ponzelar mit seinem Spuljungen Elias. Rechts im Bild Stadtführer und Drehbuchautor Dieter Brenner



Mayor Frank Meyer is now the patron of the museum Haus der Seidenkultur (HdS) in Luisenstraße 15.
"We really appreciate the fact that the newly elected mayor has accepted our proposal," was the delight reaction of HdS-Chairman Hansgeorg Hauser to this news at the recent board meeting of the Association of Friends.
Above all because Meyer, who has been a member of the Association of Friends of HdS for many years, has always taken a keen interest in the museum which represents part of Krefeld.
At the same time, Hauser thanked the outgoing patron, Gregor Kathstede, who through his initiatives during the refurbishment period made a significant contribution to the former Hubert Gotzes Weaving Factory for Ecclesiastical Textiles being preserved so that this industrial monument can tell the fascinating story of the Silk and Velvet Town and demonstrate former textile craftsmanship at authentic workplaces.
Hauser: "With our new patron, Frank Meyer, we can be certain that the work of our staff, most of whom are volunteers, can continue to promote awareness of the history of the town of Krefeld."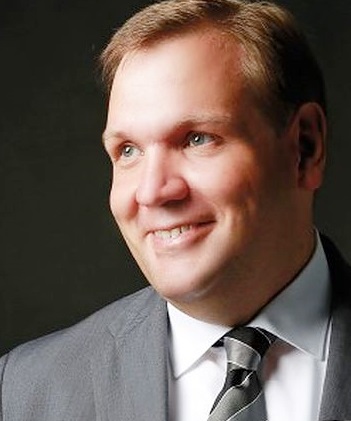 organised by Haus der Seidenkultur
"We sell Krefeld", is the word from Haus der Seidenkultur (HdS), where in addition to guided tours of the museum more and more topic-related touristic programmes are now on offer.
HdS spokesperson, Dieter Brenner, describes what "a Day in Krefeld on Silken Paths" might look like: "Following a guided tour of the museum, we serve an original "Niederrheinische Kaffeetafel" (tea and cake) in the museum itself or take a short walk along the "Silk Route" to a rustic pub full of paintings of Krefeld where typical dishes from the Lower Rhine area are served together with beer brewed in the town. Afterwards the town walk continues and can end with a tour of the St. Dionysius church or the St. Josef church including a short organ concert." HdS also offers a 90-minute guided tour of the town by coach. Important for Dieter Brenner is that: "these tours combine past, present and future in the Silk and Velvet Town."
Recently HdS organised an event with a great deal of contrast for the Lions Club. After the guided tour of the museum followed by coffee and cake, the club members – including guests from Amsterdam – travelled to Uerdingen with the historic tram, the "Blue Gentian". There they had a guided tour of the Dujardin brandy distillery and enjoyed an evening buffet in the "Alten Küferei" (former coopers' workshop).
"We take care of all the arrangements for these programmes and adapt them to the specific requirements of our clients", says Brenner who plans the tours together with his team.
If you have now gained a taste for Krefeld and would like to find out more, then contact the Visitors'Service under telephone number 02151-510812 or send an email to This e-mail address is being protected from spambots. You need JavaScript enabled to view it

Discover Krefeld from another perspective with the "Blauen Enzian" (Blue Gentian). The Lions Club had booked a trip to Uerdingen with the tram for its guests from Amsterdam.

Master Ponzelar and Cornelius de Greiff join the guests from Haus der Seidenkultur in the pub "Wienges" where local dishes from the Lower Rhine area are served accompanied by typical Krefeld sayings. And as an extra bonus to the menu there is a "Silk Soup".
Photos: HdS

A completely new feeling for Krefeld in the modern Haus der Seidenkultur

"Sensational with three exclamation marks" is the opinion of a professor visiting the re-opened Haus der Seidenkultur following the refurbishment. "The top address for Silk Culture" and "New Start instead of Demise" were the headlines in the press. "Textile culture in Krefeld has come alive again" is how the WDR television described it in a report broadcast via the regional channels in Düsseldorf, Duisburg and in the Lower Rhine area

The culture editor of a Krefeld newspaper put it in a nutshell in his comments under the heading "A completely new feeling for Krefeld":

"Haus der Seidenkultur, until recently an impressive, slightly fusty industrial monument with provincial charm has been re-opened as a modern museum. The concepts developed by the Association of Friends sound convincing. At best the museum will give both adults and children a completely new feeling for the history of the town."

You can read more of what the media wrote about the refurbished and modern Haus der Seidenkultur under the heading Press and also visit us yourselves so that you too "gain a completely new feeling for Krefeld."



Each part of Haus der Seidenkultur guides you to a different exciting period in the textile culture of Krefeld.